Thursday, September 23, 2004
Erica pointed this out in the Knitty Coffee Shop. I would like it alot. Though, I don't think I'd wear it right now, seeing as it's getting close to Summer. I might buy the pattern some other time. When I've got the money. Just like Rogue.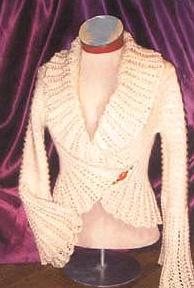 Wow. I'm on a little bit of a high. Did you know people think I'm a pot head. And then, other people, if I tell them that I am a pothead and that I smoke all the time and stuff (which I don't, I am not, and I do not endorse) they don't believe me and think I'm too innocent. Sad. I'm happy to be innocent though.
Again, I'm slightly off. Like a rotten egg. Just to make it very clear, I don't do pot, or anything else like it. It's a natural high. Just had to clarify that.
Have finished the increseaseseseses for my halter top, will put in three short row wraps just to ensure long lasting..Fitness. Size. Yes.
I think that's all I have left to say. This is a fairly short post, then, compared to usual. I think I will scan my Shapely Halter. What've I got to lose? Other than respect...Hehe, or not.
On the sewing/stitching front, I have finished my boxers. The pattern is a really old crap one, and I blame it for the un-goodness of them. Like, the fabric is great, and the sewing. But, they're all...unco around the legs, like, hard to walk in sort of. I don't know. I'll sleep in em tonight, and see what happens.
Bye bye.

Ashik0 @ 9/23/2004 07:56:00 pm

<< down south knitting >>
<< Fibre RAOK >>
adelaide.blogs
<< knittyheads >>
<< Fiber Arts Bloggers >>
< < ANZaK blogs > >
acrylics anonymous PreviousNext