Friday, December 24, 2004
Honey, I'm Home.
Weell..Someone got here after searching for "Vicious Attacks cauhgt on tape"...? Yess, that's definetly what you will find here...
I started watching "The Rage: Carrie 2"..But then my TV died. I don't think I'd be able to cope with Carrie, but The Rage seems..alright. I'm no horror movie fan, so this is a large deal for me.
Laziness is not to blame, really, for the lack of posting.
It is close to Christmas.
Tuesday and Wednesday and Thursday I was at Marion with Mum, doing the Christmas shopping. Also, on Thursday, I spent most of the day wrapping the presents. While I wrapped, Mum had to do all the cleaning and cooking and crap, while the brothers sat there playing Frozen Throne.
Then, today..Mamma and B got married! I didn't know till Wednesday, and the brothers and B's kids only found out today, as we were heading to the Registry Office. It was just a nice little gathering of people, relatives of B and family friends of Mum. (Mums family are in another state...We've kind of made our own family here, of good friends and all.) I would show you pictures, but Mother would shoot me if she came across them.
It was an emotional thing, I started crying because everyone else was, I couldn't help it! But then we went to a really nice cafe.. (Mondiali?) and have a breakfast/lunch meal. It was very nice.
I was thinking about purchasing Noro Knits by Jane Ellison. I do quite like Butterfly and York, but I'm not sure if it's because of the stripy Noro yarn.



Butterfly, from "NoroKnits" by Jane Ellison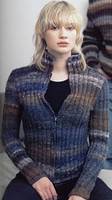 York, from "NoroKnits" by Jane Ellison

Ok. Now, for a while, I've been wanting to get myself some fake dreads. A while ago, I even bought a whole lot of the hair needed (It's ok, it's plastic, fake hair, I didn't make some poor woman in a thrid world country chop off all her hair for two bucks!)..But it's just so time consuming, and I have no-one to teach me how to dread it properly..Believe me, the art of dreading hair is a skilled one!
Anyways, so here is how I would love to have my hair! Kohl is



Anyway, I have to go now, I just thought I'd reasure Max that I'm alive :P






EDIT: Got Mail!..Figured I may as well take the much needed photos..




IK and Vogue Knitting are both from Brandy, and the masses of Kool-Aid's from Kristine! YAY!! I think there's one more package of the lovely drink stuck in the poat, coz I got the first, then the third..So now am awaiting the arrival of the second..GRR. Australia Post is a bit of a let down..




The finished Zopfpullover




The lovely minty ballety-shoes and clutch I had with me/on me at for the Wedding...I love them!



And Finally, I'd like to wish you all a very
Merry Christmas
and a Happy New Year!



Ashik0 @ 12/24/2004 01:53:00 pm
















<< down south knitting >>
<< Fibre RAOK >>
adelaide.blogs
<< knittyheads >>
<< Fiber Arts Bloggers >>
< < ANZaK blogs > >
acrylics anonymous PreviousNext